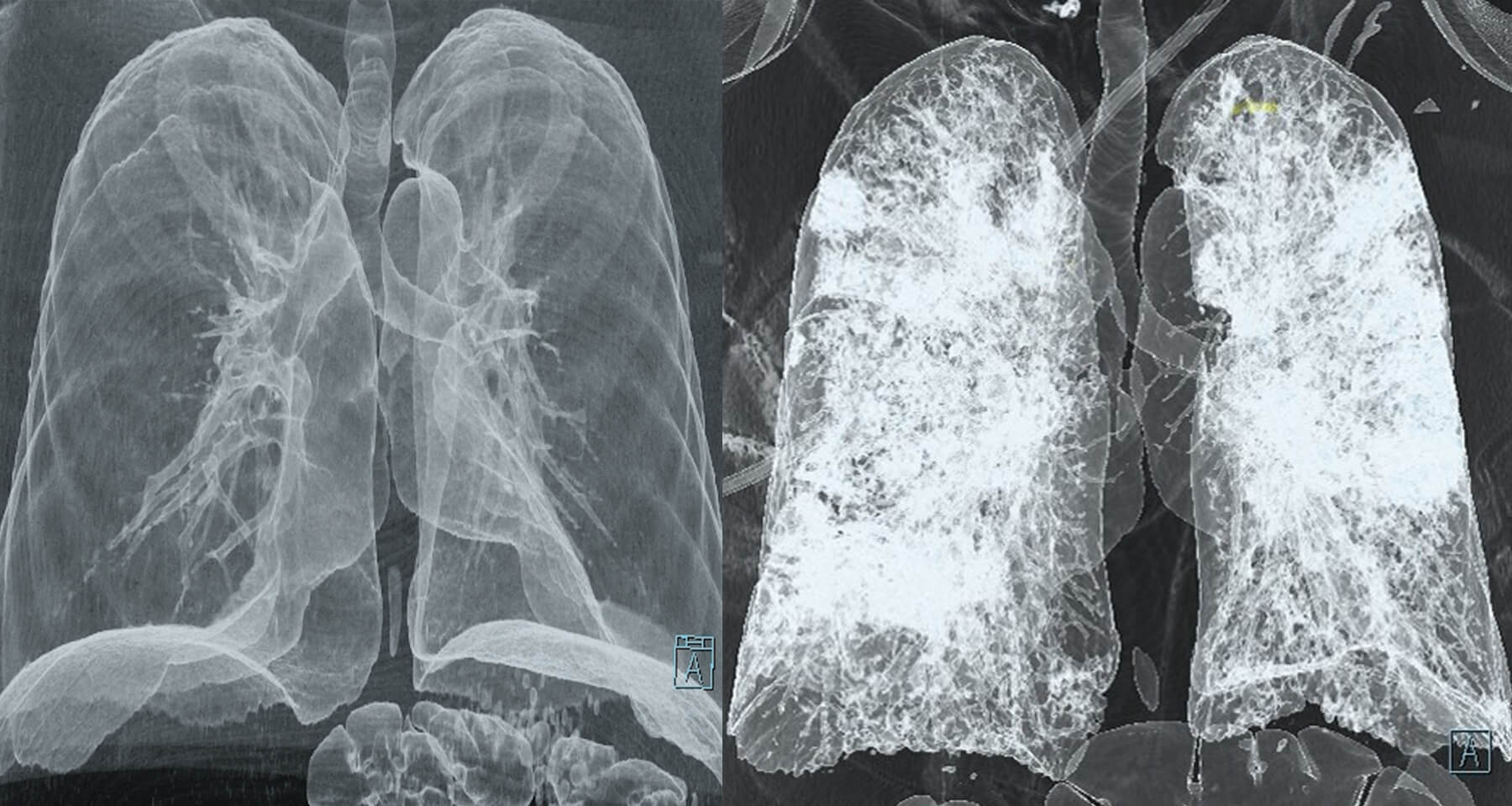 Prognostication of COVID-19 on CT-Scans
There's a new tool being developed in the fight against COVID-19, and it's happening right here in Vancouver. Radiologists at Vancouver General Hospital (VGH), in partnership with the University of British Columbia's (UBC) and Vancouver Coastal Health Research Institute (VCHRI), are building an open source Artificial Intelligence (AI) model to predict the likelihood of COVID-19 based on CT-Scans. SARS COV-2 pneumonia and the lung injury caused by an overreaction of the body's immune system (Cytokine storm) is responsible for the majority of deaths from the current pandemic – something that can be visualized on CT scans.
The project is being led by Dr. Savvas Nicolaou and Dr. William Parker, and is supported by the UBC Community Health and Wellbeing Cloud Innovation Center (UBC-CIC), powered by Amazon Web Services (AWS). The UBC-CIC's mission is to: solve real-world challenges that materially benefit British Columbia, Canada and the world, by engaging and collaborating with stakeholders in Community Health and Wellbeing innovation challenges, and make the solutions available open source globally. Additional support for the project is being provided by the Vancouver Coastal Health Research Institute (VCHRI).
The Department of ER Radiology, CardioThoracic Section at VGH is spearheading this research, along with VCHRI, UBC, and research lab/biotech company SapienML led by Engineer Brian Lee. Teams have been coding and collecting CT data (and in some cases X-Rays) from around the globe, including scans from the Middle East, Italy, South Korea, and Canada.
The data collaboration was possible due to an open-source tool, developed and released last year by SapienML , called SapienSecure. This open source app standardizes the data de-identification of Personal Identifiable Information (PII) in medical imaging and helps to integrate directly into Amazon's storage service, Amazon S3, in the AWS Canada (Central) Region. Now, a team of more than thirty VGH radiologists and UBC medical students are coding the images, using software from MD.ai Inc. Teams can remotely login, label and work on scans from home during this COVID-19 pandemic, all powered by Amazon compute instances.
Hundreds of images have been labelled, and machine learning (ML) is being applied to develop an AI model that will analyze how the appearances of COVID-19 images vary in different geographic regions, and how these findings correlate with diagnosis and hospital admission.
Machine learning (ML) models are being deployed in FIPPA compliant AWS environments. UBC AI researchers (UBC faculty and graduate students) supported in part by Xtract.ai, Element AI, SapienML and AWS machine learning experts, are creating the models that predict for the presence of COVID-19 on CT, and assess for lung disease severity leading to ICU admission, ventilation, lung fibrosis and death. The ultimate goal in the future is to improve the moderate false negative rate of Viral PCR for COVID-19, leading to improved diagnostics.
Using these labeled images, the AI teams will be training innovative 3D residual networks, a particular style of AI algorithm, to automatically identify the unique CT chest imaging patterns in the lung and compare them with the total lung volumes. The team will continue to improve the model as more data becomes available.
The model will be released under an open source license on the UBC-CIC website, available to AI researchers and health care providers as a diagnostic tool, leading to better care of patients contracting this virulent disease.
ACKNOWLEDGEMENTS
This highly collaborative initiative includes Vancouver Imaging radiologists at VGH, the UBC-CIC staff and co-op students, SapienML staff, UBC medical students, UBC faculty and graduate students in the departments of Computing Science, Electrical Engineering, and Earth, Atmospheric and Ocean Science, VCHRI, and AWS global technical resources. This initiative is consistent with the UBC-CIC values which state that: we share knowledge, expertise and learning as openly as possible. We work collaboratively to enhance the development of ideas. We build on past efforts and share to support future ones.
CONTACT
If would like more information about this project, or would like to contribute images to the project, please contact the UBC-CIC for information on how to contribute by completing the form.